Cannabis Cultivators and Their Role
In September 2020, the Cannabis Center of Excellence (CCOE), sponsor The Hub Craft, and study partners Enlighten Your Grow, Trella Technologies, and UMass Dartmouth, launched the Environmental Sustainability and Social Justice Survey.
The goal in mind was to gain insight as to how legal cannabis plant cultivators across the USA and Canada contemplate issues of environmental sustainability as they pertain to building a just and equitable cannabis industry.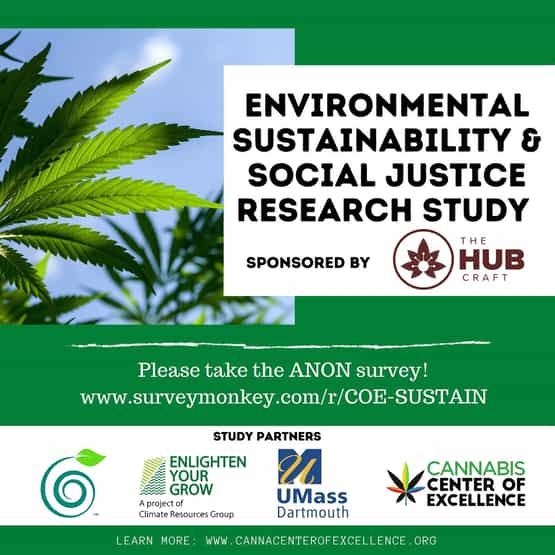 We believe that both social and environmental justice issues must be at the forefront when creating our legal cannabis plant growing industry, and there is no better time than now to understand the challenges, opportunities, and promising practices that contribute to an ecologically healthy and sustainable cultivation sector. Building a just and equitable industry means building a foundation of cannabis plant production that is not only socially equitable but informed about the environmental costs of growing and distributing cannabis products. Our goal is to generate a data-driven understanding of current efforts and ideas related to corporate social responsibility, reducing the industry's energy and environmental footprint, and addressing the wrongs of the failed drug war.
A growing body of journalistic, industry, and academic research highlights the historic and continued environmental challenges associated with growing cannabis in varying geographic contexts and with multiple cultivation methods for outdoor, indoor, and greenhouse environments. You can read more on these issues here and here. To date, no systematic studies have been conducted to try to assess how contemporary cultivators think about and address environmental issues, or what challenges they currently face given the complexity and diversity of regulatory and legal contexts.
This short blog post summarizes some of our preliminary data and reports on some interesting findings. We hope to increase the reach and response rate for the survey before releasing the full results in early 2021. So far, we have received over 40 responses from cultivators mostly located in the Northeastern US, and are currently looking to expand into other regions.
Moreover, while the survey is geared towards cultivators, over 30% of our respondents represent ancillary businesses like cannabis plant retail and product manufacturing. This response indicates that the deeply embedded social and environmental issues we are exploring resonate with industry workers in all capacities, even those who may not grow. We encourage ancillary businesses to respond to our survey as well, as opportunities for social and environmental sustainability solutions are relevant across the cannabis supply chain.
Survey data will be useful for those in the cannabis industry seeking to understand where solutions for these issues, whether technological, social, or otherwise, are most promising. For instance, our preliminary data shows that 73% of our respondents are looking to find ways to save money by reducing energy use, with 67% reporting an interest in reducing water usage. Moreover, over 60% of respondents are looking for educational and webinar opportunities about the effects of climate change on cannabis cultivation. Finally, over half of our participants report an interest in "best practice guides" and other textual/web-based resources to help them navigate the environmental impacts of their businesses.
Our preliminary data also shows that while over 40% of respondents have made formal commitments to Corporate Social Responsibility, over 50% have not yet done so, pointing to a significant gap in companies operationalizing solutions to their concerns about social and environmental sustainability. Of the 40% of companies that have made a formal commitment:
83% have revised their standard operating procedures to be more water and energy efficient

67% have donated, joined, or partnered with programs that work on racial and social justice in cannabis

67% report using only organic processes and procedures in their cultivation practices

and 50% report investing in resource-saving technologies

This early data is important for a better understanding of how cannabis plant cultivators are currently working to address issues of sustainability and what kinds of solutions are most actively used. In terms of specific issues relating to cultivation and environmental impacts:
80% of respondents are concerned about the lack of consumer packaging recycling programs

73% have concerns about packaging waste associated with cultivation

and over 50% are concerned about cultivation waste in general (chemicals, plant matter, etc.)

It is well known among cannabis industry participants that energy use from grow lighting is a common environmental concern. This is further reflected in our study, as 73% of respondents reported concerns about electricity use in general and 67% attributed this cost to their lighting technologies.
This preliminary data represents a small portion of the information collected through our survey and we look forward to publishing the full results later in 2021.
Make sure to take the survey and please save the date of JUNE 30TH, 2021 @ 12:00pm EST for a live event discussing the results of our study. More information will be announced soon.