African-American owned sustainable technology innovator celebrates first patent milestone
BOSTON, MA – February 4, 2021 – Trella Technologies, Inc. a Massachusetts-based innovator of energy-efficient and globally-scalable solutions to problems unique to the indoor farming industry, announced today that it was awarded its first patent for its system and method for automated horizontal plant training. U.S. Patent No.10,918,022 both validates and strengthens Trella's position as an industry-leading innovator of solutions for the indoor and freight farming industries of the future.
The company's patented technology, the TrellaGro LST™, uses environmentally sustainable, automated plant-training robotics to gently train and maintain tall plants and trees to grow horizontally while monitoring environmental inputs:
Automated, low-stress training eliminates hours of tying, pruning, and monitoring

Each model is equipped with temperature, humidity, and CO2 sensors for connection with the TrellaGro LST™ app

Increased canopy and shorter vegetation time mean larger and more frequent harvests

Units can be stacked to make the most of tight, indoor spaces
Since filing its patent application in April 2018, Trella remained lean and focused on efficiencies to refine two versions of the TrellaGro LST: The more compact TrellaGro LST™ Model 4 for home growers and professional cultivators looking to maximize yield in limited indoor space, and the larger TrellaGro LST™ Model 6, which is best suited for "mother plants", larger grow rooms or stacked arrangements.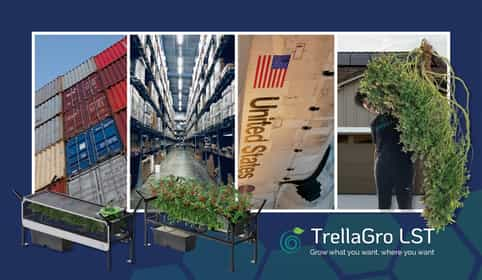 "As we celebrate this milestone for Trella Technologies, we share our joy with other entrepreneurs for whom intellectual property protection can be particularly costly and cumbersome," said Aja N. Atwood, CEO and cofounder, Trella Technologies. "We are without words to describe the gratitude we have for the support and patience of our team, our investors, growers, and the indoor farming community as we've completed this process."
To place orders or to become an investor in Trella Technologies, visit https://www.trella.io/
ABOUT TRELLA TECHNOLOGIES LLC
With the goal to disrupt the status quo in traditional indoor farming, Trella Technologies creates innovative technologies to support an environmentally sustainable, global farming community. The company's flagship technology, the TrellaGro LST™ marks the first step to diversifying what can be grown bountifully and sustainably in small, controlled environments. Visit trella.io to learn more about Trella's innovations to help indoor farmers grow what they want, where they want...with less energy output.